Plasma Pen Training Course
For advanced therapists wishing to offer this revolutionary new skin tightening procedure that is taking the aesthetic industry by storm.
Upon successful completion of this course, you will:
Be qualified to perform Plasma pen fibroblast skin tightening to a very safe and highly effective commercial standard.
Be able to offer your clients a range of skin tightening opportunities without the need for surgery.
Be able to substantially increase your salon revenue, with this popular and highly profitable aesthetic service which may be undertaken in less than an hour !
Course Summary
2 Days

.

9.30 am to 3.00 pm.

Tuition Fee £2495.

Deposit £495.

Includes High Quality German Plasma Pen Device.
" 12 Months Interest Free Finance Option available "
Choose Date, Amount and click Submit to add to cart

Plasma Pen Training Course Overview
Plasma skin tightening is a non-invasive precision technique that focuses on lifting and tightening loose skin on the face and body, with long-lasting results.
Originally developed for medical applications, plasma has now emerged as an aesthetic treatment and offers a non-invasive route to results that rival cosmetic surgery and lasts just as long.
This treatment is ideal for people wanting to look like a younger fresher version of themselves and are looking for a method of skin tightening that will deliver similar results to surgery without the scalpel, stitches, bandages and prolonged downtime.
Plasma may be used for skin tightening around the eyes, wrinkles, frown lines, loose skin on the jaw and neck, as well for a range of skin lesions including skin tags, moles, stretch marks etc.
The device used for the procedure uses plasma, an ionized gas between the tip of the tool and the patient's skin. During the procedure electric arc forms, referred to as a plasma flash. Only the surface of the skin is touched causing the tissue to retract and tighten with amazing results.
Upper Lids – Before and After
Course Content
On this course you will learn:
Introduction to Plasma Pen skin tightening.
Benefits of Plasma skin tightening.
Indications for treatment.
Anatomy and Physiology- The Histology of Skin Ageing.
The science behind how Plasma works.
Plasma devices and electrical arcing.
Health and safety precautions.
Contra-indications and contra-actions.
Client consultation, protocol and informed consent.
Plasma technique.
Differences in devices.
Step by step of Plasma skin tightening treatments to a range of areas.
Results clients can expect.
The stages of wound healing.
Post treatment care/ post treatment restrictions.
Treatment planning, frequency and pricing.
Course Information
Entrance requirements:  Our Plasma Pen training course is for therapists / non- medics qualified to NVQ Level 3 or equivalent (inclusive of Anatomy & Physiology), as well as Medical practitioners. Microblading / SPMU artists may also eligible for this course.
Exam / assessment info: You will be assessed by continual practical observation throughout the course and written assessment, to ensure that you have all the knowledge that you will need to practice your skills professionally.
NB. Please note as this is such a precise skill, depending on your level of skill and experience we recommend you devote time to practising before going fully commercial.
Qualification / Certification: Upon successful completion of the course you will be awarded a 'Plasma Skin Tightening Diploma'  by Helen McGuinness Health & Beauty Training International.
Insurance and Membership: Our Diploma is accepted by Insync and Finch for insurance to practice professionally.
Crows Feet – Before and After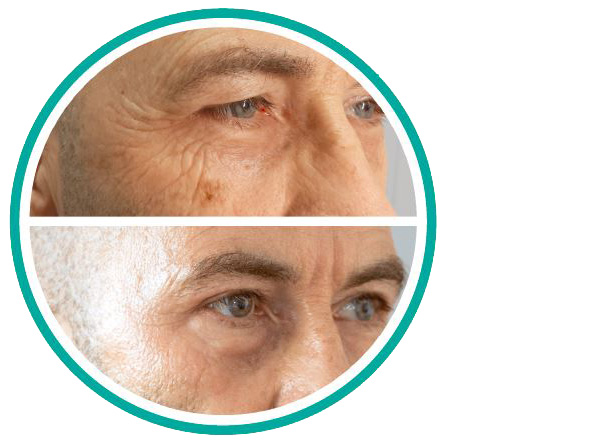 Plasma Pen Training Course Questions ?
Extend your Beauty skills further
How can I compliment my dermaplaning skills ?
To compliment your Plasma Pen Training, we recommend our Micro Needling course, our Mesotherapy course, our Electrolysis course as well as our Advanced Cosmetic Procedures training.