Plasma Pen Training Course
For advanced therapists wishing to offer this revolutionary skin tightening procedure that is taking the aesthetic industry by storm.
Upon successful completion of this course, you will be qualified to:
Perform Plasma pen fibroblast skin tightening to a very safe and effective commercial standard.
Offer your clients a range of skin tightening opportunities without the need for surgery.
Substantially increase your salon revenue.
Course Summary
1 Day.
9.30 am to 3.30 pm.
Course Fee – £695
Deposit £195
Balance payable 14 days prior to course attendance date.
Plasma Pen Training Course Overview
(Fibroblast Skin lifting and Rejuvenation)
Plasma skin tightening is a non-invasive precision technique that focuses on lifting and tightening loose skin on the face and body, with long-lasting results.
Originally developed for medical applications, plasma has now emerged as an aesthetic treatment and offers a non-invasive route to results that rival cosmetic surgery and lasts just as long.
This treatment is ideal for people wanting to look like a younger fresher version of themselves and are looking for a method of skin tightening that will deliver similar results to surgery without the scalpel, stitches, bandages and prolonged downtime.
Plasma may be used for skin tightening around the eyes, wrinkles, frown lines, loose skin on the jaw and neck, as well for a range of skin lesions including skin tags, moles, stretch marks etc.
The device used for the procedure uses plasma, an ionized gas between the tip of the tool and the patient's skin. During the procedure electric arc forms, referred to as a plasma flash. Only the surface of the skin is touched causing the tissue to retract and tighten with amazing results.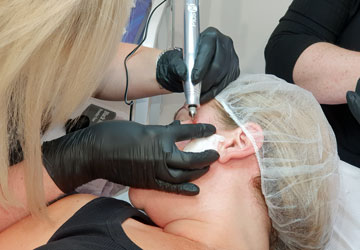 Earning Potential
Omce qualified to offer Plasma Fibroblast Skin Lifting treatments to your clients, you will be able to charge from around £200 upwards. Please see the table below for area treatment pricing.
The Revolutionary way to achieve non-surgical Skin Tightening with a Plasma Pen
Applications include:
Eyelid tightening
Scars and acne scars
Mini-Facelift
Eyebrow lift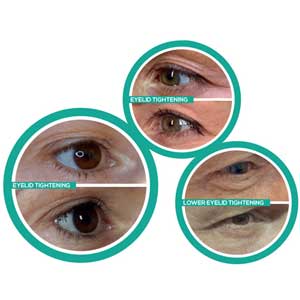 Forehead wrinkles
Neck wrinkles tightening
nasolabial folds
double chin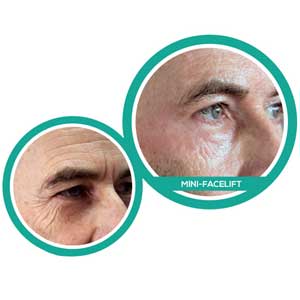 lips and mouth folds
pigment spots
fibroids
Stretch Marks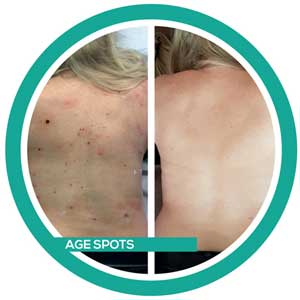 What can I charge once I am qualified in Plasma Skin Tightening?
The following table is a sample of the guide prices you will be able to charge per treatment once you are qualified.
| | |
| --- | --- |
| | |
| | |
| Upper and Lower eye lid tightening | £495 (if carried out at same appointment) |
| | |
| | |
| Lower face (nasolabial, marionette, smokers, lower lips and chin lines) | |
| | |
| | |
| Nasolabial lines (nose to mouth lines) | |
| | from £595 (price depending on extent of area to be treated) |
| | 1st wart £95.00, each subsequent wart £75.00 (if treated at same appointment) |
| | From £495 (price depending on extent of area to be treated) |
| | From £349 (price depending on extent of area to be treated) |
Plasma Pen Devices
Please note our Plasma course is unique in that it is unbranded and is not linked to a Specific Manufacturer.
We offer a comprehensive training course in Plasma skin tightening which is generic, and focuses on correct techniques in order for you to understand the science of plasma first and foremost.
On the day of training, we introduce you to several devices, products, and equipment on the market so that you can make comparisons which will allow you to make an informed choice of device, without being tied to a specific brand.
You can then purchase your chosen device after your training and we will supply you with all the information you need to get the device of your choice.
Upper Lids – Before and After
Course Content
On this course you will learn:
Introduction to Plasma Pen skin tightening.
Benefits of Plasma skin tightening.
Indications for treatment.
Anatomy and Physiology- The Histology of Skin Ageing.
The science behind how Plasma works.
Plasma devices and electrical arcing.
Health and safety precautions.
Contra-indications and contra-actions.
Client consultation, protocol and informed consent.
Plasma technique.
Differences in devices.
Step by step of Plasma skin tightening treatments to a range of areas.
Results clients can expect.
The stages of wound healing.
Post treatment care/ post treatment restrictions.
Treatment planning, frequency and pricing.
Course Information
Entrance requirements
Our Plasma Pen training course is for therapists / non- medics qualified to NVQ Level 3 or equivalent (inclusive of Anatomy & Physiology), as well as Medical practitioners. Microblading / SPMU artists may also eligible for this course.
Exam / assessment info
You will be assessed by continual practical observation throughout the course and written assessment, to ensure that you have all the knowledge that you will need to practice your skills professionally.
Qualification / Certification
Upon successful completion of the course you will be awarded a 'Plasma Skin Tightening Diploma'  by Helen McGuinness Aesthetics & Beauty Training International.
Insurance and Membership
Our Diploma is accepted by Insync and Finch for insurance to practice professionally.
Crows Feet – Before and After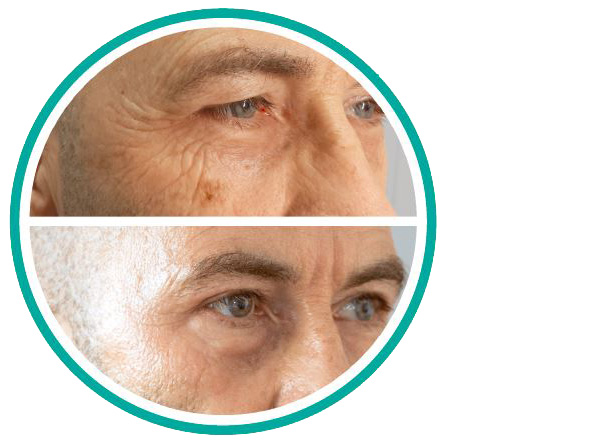 Plasma Pen Training Course Questions ?