Advanced Skinboosters Training Course
Skin Boosters are an very popular form of natural looking injectable treatment and are constantly advancing in their usage and efficacy. They are extremely versatile as they can be used on the face, neck, hand and décolletage.
This course has been specially designed for those wishing to extend the range of Skin Booster treatments they offer to include 'add on' areas such as the neck, decolletage, lips and hands.
Upon successful completion of this course, you will: 
Have the confidence and proficiency to extend the range of your Skin booster treatments.
Know how to administer a range of different injection protocols for each treatment area
Be equipped with the necessary knowledge and practical skills to integrate Advanced Skin Boosters into professional clinic practice and extend your menu of injectable services.
Course Summary
1/2 Day.
1.30 pm to 4.30 pm.
£395 for Advanced Skin Boosters, or
£695 for Skin Boosters and Advanced Skin Boosters   (save £95 by taking both together).
Deposit £125 per course.
Balance payable 14 days prior to course attendance date.
Advanced Skinboosters Training Course Overview
Our Advanced Skin Boosters course has been specially designed for qualified Aesthetic Practitioners to be able to explore a variety of ways in which Skin boosters may be used to extend the treatment areas they may be administered to include the neck, hands, decolletage, under eyes and for lip rejuvenation.
The course will also look at using a cannula for wider and safer product distribution .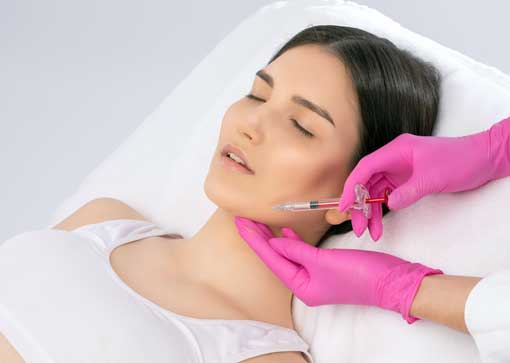 Earning Potential
Qualified Therapists can expect to charge £250 for a treatment.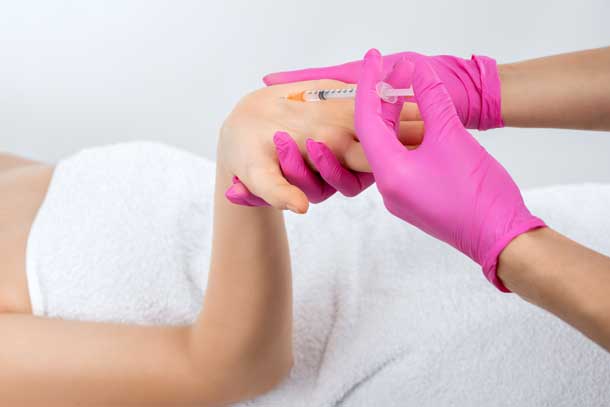 Course Content
On this course you will learn:
Benefits of Skin booster injections to neck, decolletage, under eye, lip and hands.
Relevant Anatomy & Physiology for each treatment area.
Indications for treatment.
Product knowledge.
Needle vs cannula.
Hygiene, health and safety.
Contra-indications and contra-actions.
Client consultation, protocol and informed consent.
Step by step injection protocol of how to administer Profilho injections to the neck area.
Step by step injection protocol of how to use Skin boosters to improve the decolletage.
Step by step injection protocol of how to use Skin Boosters to improve under eye rejuvenation.
Step by step injection protocol of how How to use Skin Boosters to improve hand rejuvenation.
Step by step injection protocol of how to use Skin Boosters in Lip rejuvenation.
Results clients can expect and managing expectations.
Risks, side effects and complications management.
Post treatment care/ post treatment restrictions.
Treatment planning, frequency and pricing.
Course Information
Entrance requirements
Candidates must already be qualified to perform Skin Booster Treatments or have completed our Skin Booster Course.
This course is suitable for those with an NVQ Level 3 in beauty therapy, or equivalent (including A & P) and at least 6 months experience in treatments that pierce the skin. (i.e Epilation, Advanced Cosmetic Procedures,  Microblading or Micropigmentation).
Those who are qualified in Dermal fillers or Botulinum toxin (6 months experience), or are a Registered Nurse, or other medical professional would also be eligible.
Exam / assessment info
You will be assessed by continual observation throughout the course, to ensure that you have all the knowledge that you will need to practice your skills professionally. There will be a written assessment and practical assessment taken at the end of your training to assess your competency for commercial practice.
Qualification / Certification
Upon successful completion of the course you will be awarded a 'Advanced Skin Booster Diploma' by Helen McGuinness Aesthetics & Beauty Training International.
Insurance
We advise that you check with your individual Insurer that you can get insurance before booking the course.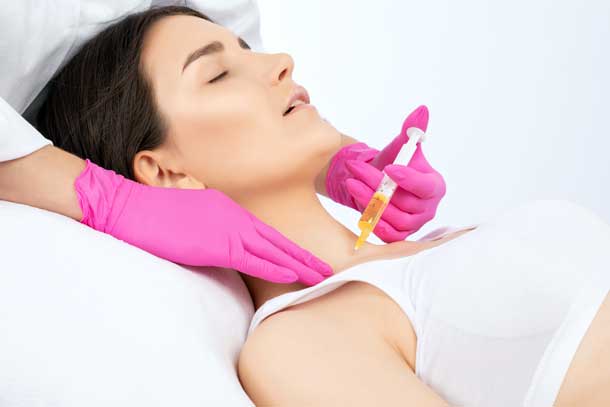 Advanced Skinbooster Course Questions ?