Microblading Training Course
This course is designed for beginners, with no knowledge or experience in permanent make up, who are wishing to offer Eyebrow Microblading treatments to a high professional standard.
Upon successful completion of this course, you will:
Be qualified to offer Eyebrow Microblading as a professional treatment.
Know how to create the perfect hair stroke Eyebrow designs.
Know the licensing and insurance requirements for Microblading.
Course Summary
Our Microblading course is offered as a 1 to 1 training option.
Available as either:

2 Day Beginner – £1,995
1 Day Refresher – £1,495

9.30 am to 4.00 pm.
Starter Kit Included.
Microblading Course Overview
(Semi-Permanent Make up for the Eyebrows)

Microblading is an advanced 'brow embroidery' technique whereby a superfine row of needles is used to create thin, hair like marks on the skin, which last up to 18 months.
Microblading is currently the fastest growing segment of the cosmetic tattooing industry. It is a semi-permanent eyebrow procedure originated in Asia, and is also known as eyebrow embroidery. The technique of implanting pigments into the dermis dates back thousands of years; however, the trend towards using fine stroke techniques only emerged in recent years.
Microblading is a way of implanting pigment under the skin using a specially designed tiny blade, which leaves thin realistic hair strokes for the most natural finish. It is a fantastic treatment for anyone looking to improve or enhance the appearance of their eyebrows and gives a beautiful natural looking 3d effect to the brows. With this method you can create almost any look, from a very natural light finish or a beautifully bold brow. Sparse or missing brows can be completely restored.
Microblading is carried out using a specialist hand tool which holds disposable microblades. When using the hand held microblade, the colour pigment is deposited closer to the surface than when a machine is used leaving very fine and crisp hair strokes with no spilling under the skin. Tiny precision hair strokes are created by hand, mimicking the natural direction and length of your brows.
It is ideal for creating a very full and realistic looking brow, for filling in gaps or for a total eyebrow design, and is becoming an increasingly popular method in permanent makeup.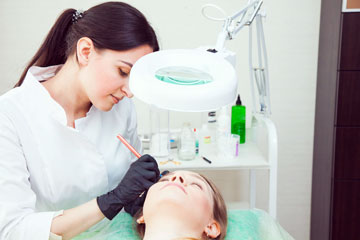 Earning Potential
Microblading is a very profitable treatment. Therapists can charge from £250 per treatment depending on market and area.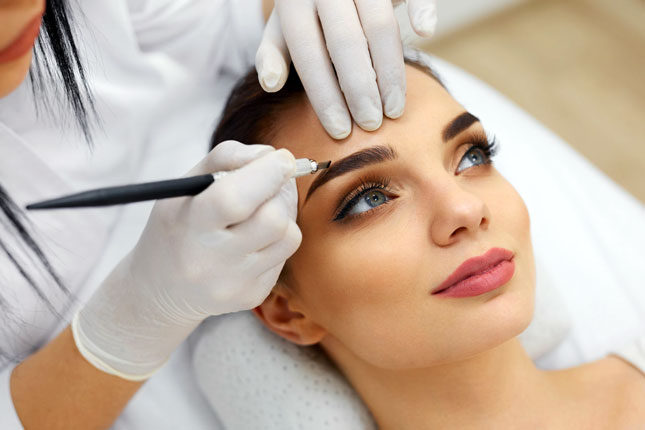 Course Content
On this course you will learn:
History and background of Microblading.
Benefits of Microblading.
Skin anatomy- with particular reference to pigment depth.
Skin types (Fitzpatrick scale analysis).
Eyebrow anatomy.
Eyebrow mapping/ assessment of the eyebrow.
Colour and pigment theory.
Client consultation, protocol and informed consent.
Contra-indications and contra-actions.
Health, safety and hygiene.
Patch testing.
Pain management / Legal use of topical anesthetics.
Tools and equipment for Microblading- choosing the right blade.
Hair stroke designs.
Treatment protocol/ Step by step of an Eyebrow Microblading treatment.
Microblading technical tips- creating the perfect hair stroke.
Post treatment care/ post treatment restrictions.
Top up treatments.
Treatment planning and pricing.
Course Information
Entrance requirements
This course is suitable for beginners to semi permanent make up.
All students attending our Microblading course are required to complete the tattoo infection control course. This can be completed online at protrainings.eu.
Exam / assessment info
You will be assessed by continual observation throughout the course, to ensure that you have all the knowledge that you will need to practice your skills professionally. There will be a written assessment and practical assessment taken at the end of your training to assess your competency for commercial practice.
You will then be required to carry out 3 case studies on each type of brow, demonstrating before, after and once healed photographs.
Please note: As this is such a specialised skill that requires such precision, we recommend that you devote a minimum of 4-6 weeks practice on artificial skins (2 included in student kit) and feedback 'models' before you would look towards booking professional clients.  Naturally this will be dependent on your skill, confidence and ability and will also time for you to apply for the relevant licence and insurance.
Qualification / Certification
Upon successful completion of the course you will be awarded a 'Eyebrow Microblading Diploma' by Helen McGuinness Health & Beauty Training International.
Students will receive a certificate of attendance once they have completed day 3 of the course. Once case studies are completed and assessed students will receive their full certificate.
Insurance and Membership
Our Diploma is accredited by ABT, from whom you may gain professional membership and insurance to practice professionally.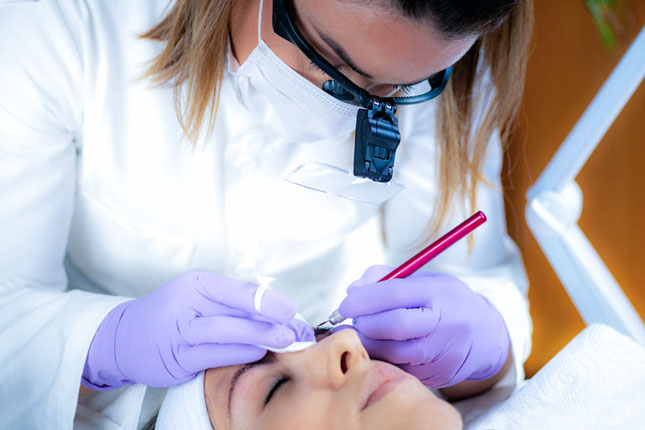 Microblading Course Questions ?