Superficial Chemical Skin Peels Course
For qualified therapists wishing to offer cosmetic skin peel treatments.
Upon successful completion of this course, you will:
Be qualified to offer Skin Peel treatments safely and effectively.
Be able to apply a range of different Skin Peels.
Know how to apply the correct Skin Peels, in terms of percentage strength and pH for different client skin needs.
Course Summary
1/2 Day face to face.
9.30 am to 12.30 pm.
£295 for Superficial Peels, or
£625 for Superficial and TCA Peels (save £65 by taking both together).
Deposit – £125 per course
Balance payable 14 days prior to course attendance date.
Chemical Skin Peels Course Overview
(A fast and safe treatment procedure offers superb results and a high profit margin)
Qualified beauty therapists can now take their skills to the next level with our New Advanced Chemical Skin Peel Diploma training course.
A chemical skin peel treatment acts as a chemical exfoliant, removing the upper layers of skin and dead skin cells to reveal the fresh, new skin underneath. It is one of the most popular non-invasive skin treatments available. It is suitable for all skin types but is particularly suitable for acne, pigmentation, photodamage, uneven skin tone and texture and anti-ageing.
A chemical peel uses a solution made up of different types of acids (principally glycolic acid) to rejuvenate and renew the skin through increased cell turnover. Glycolic acid is a type of Alpha Hydroxy Acid derived from sugar cane (it can also be made synthetically). Due to its smaller molecular size, glycolic acid is more effective than other alpha hydroxy acids and when used correctly can improve the look and feel of the skin quickly, safely and effective with no downtime.
There are a number of different skin peels available containing different combinations and quantities of acids; we cover a range of peels up to 50% strength which are safe and easy to use with no downtime.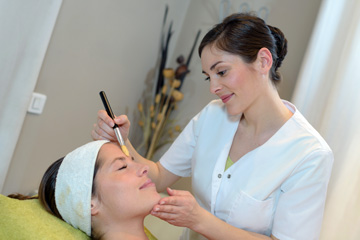 Earning Potential
A skin peel will reveal fresher looking, brighter and rejuvenated skin. Skin will appear smoother, clearer, softer and more refined. 
Pricing starts at £50 for 30 minutes.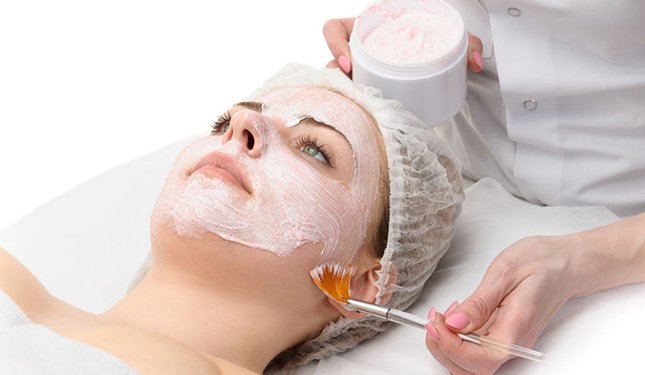 Course Content
On this course you will learn:
Advanced skin knowledge- structure & physiology.
Skin health.
Skin ageing.
Pigmentation.
Skin typing and the Fitzpatrick skin scale.
Applied chemistry- pH scale.
Different types of peel classifications and how they work on the skin.
Contra-indications.
Health and safety precautions.
Skin conditions suitable for treatment.
Client consultation, protocol and informed consent.
Treatment protocol/ Step by step of a Cosmetic skin peel treatment.
Post treatment care/ post treatment.
Course Information
Entrance requirements:
As this course is an Advanced Technique, this course is for therapists qualified to NVQ Level 3. Please contact us if you are qualified to Level 2 in Beauty, but do not have a Level 3 qualification as we can offer an NVQ Level 3 in Facial Electrical as a suitable pre-requisite for this course.
Exam / assessment info
You will be assessed by continual observation throughout the course, to ensure that you have all the knowledge that you will need to practice your skills professionally. 
NB. Please note as this is such a precise skill, depending on your level of skill and experience we recommend you devote time to practising before going fully commercial. 
Qualification / Certification
Upon successful completion of the course you will be awarded a 'Chemical Skin Peels Diploma'  by Helen McGuinness Health & Beauty Training International. 
Insurance and Membership
Our Diploma is accredited by ABT, from whom you may gain professional membership and insurance to practice professionally.
Chemical Skin Peels Course Questions ?