Helen McGuinness
Over 35 years experience as a professional Aesthetician.
First qualified in 1984.
Run private clinics since qualifying in 1984.
Over 30 years teaching experience in the UK and internationally.
Established Author of numerous educational titles, who has written for Hodder Education since 1996.
Presenter and narrator of over 25 professional training videos.
Written as part of the standards setting team for industry qualifications.
One of the very first individuals to achieve the Qualifi Levels 5 and 7 in Aesthetic Practice.
"I originally qualified in the mid 80's and I remain as passionate about the industry today as I did then. 
I have always enjoyed teaching and helping people to gain new skills and hope to help more students learn over the coming years."
Helen McGuinness originally qualified in Beauty Therapy in the mid 80s, Helen's career in this Industry has so far spanned over 35 years.
After qualifying and gaining several years salon experience, she went on to gain a teaching qualification out of a long held ambition to help educate others. After gaining her teaching and assessor qualifications she gained a lot of experience by teaching at a number of large Further Education colleges across the South of England.
She also became of the original 6 Regional Verifiers in Southern England & the South West for VTCT, one of the main awarding bodies for beauty and holistic qualifications in the UK today.
In 1992, she opened her own training school (originally called The Holistic Training Centre), which celebrated its 28th birthday in 2020. Since opening her School in 1992, she has seen over 10,000 students pass through her doors, many of whom have gone on to have successful careers and open their own salons !
As well as being an established Trainer, Helen is also well known as an Author of several books including Anatomy & Physiology, Holistic Therapies, Aromatherapy, Indian Head Massage, Facial Massage & Skin care and Baby Massage.
Her original book 'Anatomy & physiology' which was originally commissioned in 1995 is now in its 5th edition having been in print for over 25 years
Alongside her series of best selling books, Helen developed a range of over 25 professional training DVDs, that she personally demonstrates and narrates in 'real time'.
Both her books and DVDs continue to be in demand globally and are used in many colleges under license as part of their learning programmes.
In an executive capacity, Helen continues to be asked to teach for many Professional organisations including Spas, Salons, Primary Care Trusts. She has lectured overseas, presented at Spa Conferences in both Florida and Las Vegas and worked with a Skin Care company based in New York.
Helen presenting as a member of the Beauty Skills team at Professional Beauty Excel.
Today, Helen remains very much a hands on educator and has students from Asia, the Middle East, Europe and the Americas as well as from all over the UK, Ireland and Scotland.
Despite her busy schedule, Helen has always been committed to keeping her skills up to date and runs a part time Aesthetic clinic with her own private clientele.
Often known as a market leader for other trainers to follow, Helen has continually advanced and developed her skills. Over 10 years ago she successfully predicted how the Beauty Industry was evolving to include more Advanced Aesthetic services.
To meet that need, over the past 10 years, Helen has advanced her skills to include some of the most popular skin rejuvenation treatments such as Chemical peels today, Mesotherapy, and Microneedling.
She has also devoted a considerable amount of time to gaining a Level 4 qualification in Microblading, Plasma Skin Tightening and is one of the first candidates to undertake an Ofqual regulated Level 7 qualification in Aesthetic Services (Botulinum toxin and Dermal fillers) for non medics.
Helen is still passionate about what she practises and teaches and hopes to train many more people who will go on to be successful in their own careers.
Witnessing her students succeed in their learning and be able to follow a professional career in the industry is what gives Helen most pleasure, and will always will be her drive and passion.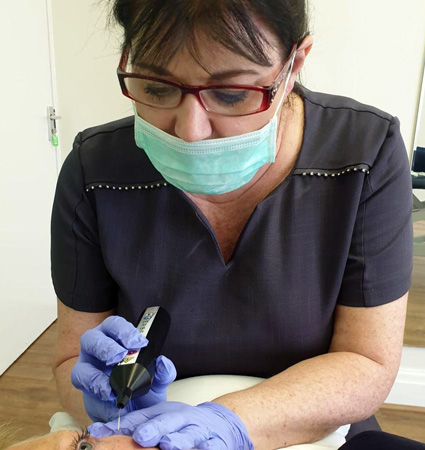 Helen performing a Plasma Fibroblast Skin Rejuventation Treatment.